Oke-Ogun People Protest The Deplorable State Of Oyo-Iseyin Road (Pics)
Commercial drivers plying the Iseyin-Oyo road have blocked the routes. According to them, they won't leave until the Federal Government fixes the road.
National Insight quoted the drivers as saying that they are denied access to travel from the 10 local government areas in Okeogun part of Oyo State to Oyo by what they described as the nonchalant attitude of the government. One of the commercial drivers' Union leaders, Mr Lukman Oba, while speaking omthe incident said if the reconstruction cannot be done immediately, palliative measure should be urgently put in place by the Federal Government.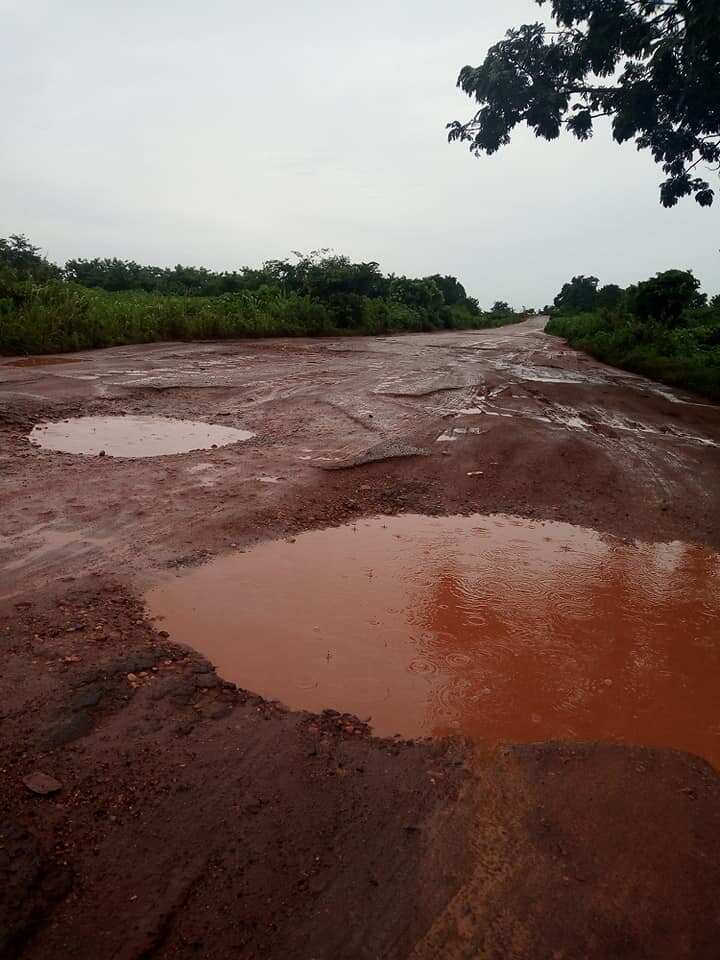 He said further "We are all tired. Nigeria government has totally neglected us in this part. Are we not Nigerians? Didn't they come here during campaign? We are calling on them to have mercy on us. All our vehicles are damaged and we are recording casualties every day! We are all tired of exposing ourselves to danger on the road".
It would be recalled that the lawmaker representing Oyo North Senatorial district at the upper chamber of the National Assembly Senator Abdulfatai Buhari had on the 2nd of October, 2019, forwarded to the Minister of Works and Housing, Babatunde Raji Fashola demanding urgent need for reconstruction of Iseyin/Oyo Road and Igbeti/Ilorin road being major roads network for people of Oyo North.
Buhari, in the letter said "The two bridges of the roads linking the entire Oke-Ogun axis broken down, thus affecting the free movement in particular and the economic activities in general."
"We appeal to you on these roads which house 10 local governments in my senatorial district. They are only two roads that link the entire Oke-Ogun axis of the State to the west while Igbeti /Ilorin road links the region to the north, he had said Speaking on the development, Buhari enjoined members of NURTW in Oke-Ogun and Oyo not to complicate the plights of commuters in Oyo North via their strike action but exercise patience and pray fervently for him so that very soon all his efforts on the roads shall yield the desired results.